ACF Key Projects
Arthritis Care Foundation (ACF) as a registered trust came into inception in 2010 with three founding members starting volunteer services. Currently 7 volunteer rheumatologists and 11 doctors on ACF's payroll are providing services at various charity & co-opted clinics, accommodating thousands of indigent patients with arthritis and autoimmune diseases.
ACF CHARITY CLINIC & DISPENSARY (NEW MUSLIM TOWN LAHORE)
• Dedicated charity clinics at ACF Shadman in 2019, which is now shifted to its new location (New Muslim)
• Currently six days per week clinics are being conducted by qualified rheumatologists including Dr. Saira Khan, Dr Rafaqat Hameed and Dr. Muhammad Faiq.
• Deserving patients are not only getting free or subsidized consultations but also getting free medications through ACF dispensary as well as diagnostics support.
• Every year around PKR 10 Million worth of medications are being disbursed to deserving patients through ACF dispensary.
• One designated Medical Officer on ACF remuneration is permanently available, Six days a week to facilitate patients.
• Patients are now also provided with a designated Physiotherapist on ACF remuneration, Six days a week.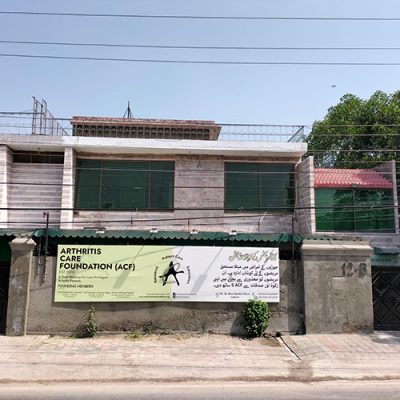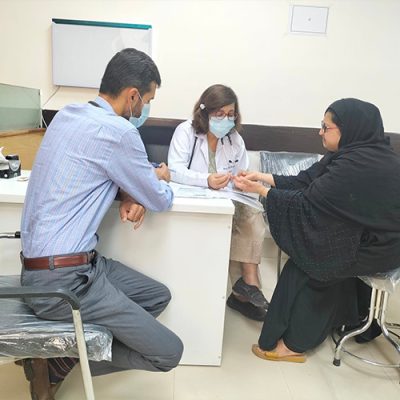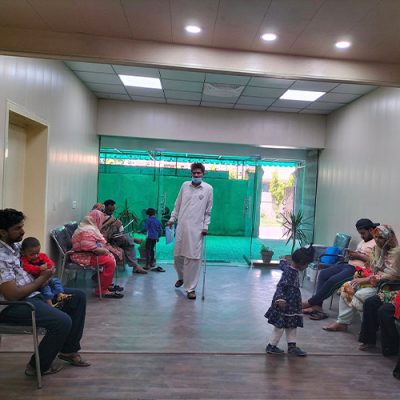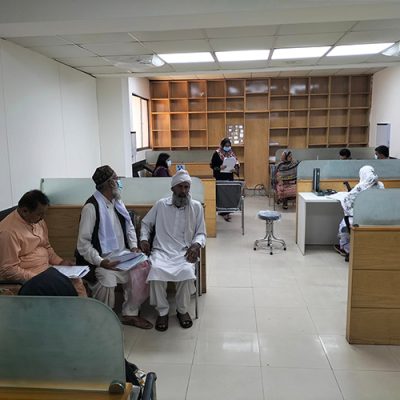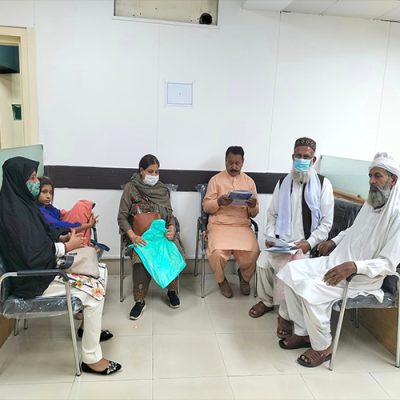 ACF

collaborative

clinics
In order to reach out more, ACF also collaborates with and supports various projects as under:
ACF CHARITY CLINICS AT AFJOG HOUSE
Free weekly Rheumatology clinics were started at Akhtar Mubarik Referral Center (AMRC), Lahore in 1998 and later were moved to  Association of Fatima Jinnah Old Graduates House. (AFJOG) House.
AFJOG provides clinic space and support of ancillary staff, diagnostic facilities and physiotherapy free of cost to rheumatology patients.
ACF is sharing with AFJOG AMRC the cost of medications provided to indigent arthritis patients and funding salary of a senior medical officer and a dispensary assistant.
ACF team provides free consultation once a week seeing number of patients suffering from rheumatic diseases.
So far more than PKR 10 Million worth of medications have been provided to indigent patients through this collaborative project. In the financial year 2021-22, ACF provided medications worth Rs. 1.8 Million.
INSTITUTE OF RHEUMATIC DISEASES AT CENTRAL PARK MEDICAL TEACHING HOSPITAL
In 2021, ACF has entered into collaboration with Central Park Teaching Hospital & Medical College (CPTH&MC). A project of Health and Education Foundation & ACF, as a significant step towards establishment of an Institute of Rheumatic Diseases & a state of the art Department of Rheumatology. The department has been recognised by College of Physician & SurgeonsPakistan (CPSP) for FCPS fellowship training program. 
In January 2022, due to efforts of ACF team, the Department of Rheumatology at CPTH got accredited by CPSP for FCPS Rheumatology training program. ACF is funding TWO trainee fellows through its Scholarship Program. Since 2021, total of PKR 7 Million has been spent on provision of medications, biologics as well as scholarship funding and faculty support program at CPTH&MC. This department is also recognized as research centre for rheumatic disease patients and is part of The Asia Pacific League of Associations for Rheumatology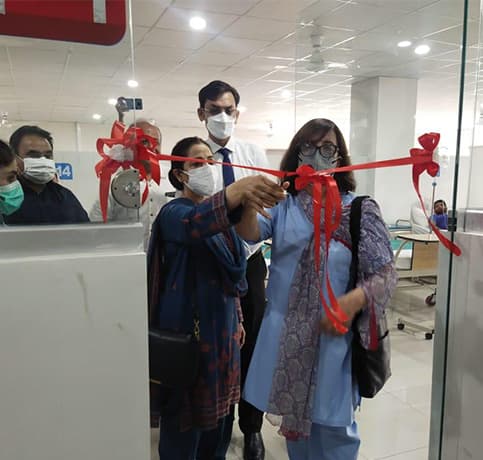 ACF in collaboration with (CPTH&MC)
ACF is supporting indigent patients through provision of medications (including biologics) and diagnostic facilitation. Through Faculty Support Program, ACF is also funding 50% of faculty of the department including remuneration of an Assistant Professor Rheumatology.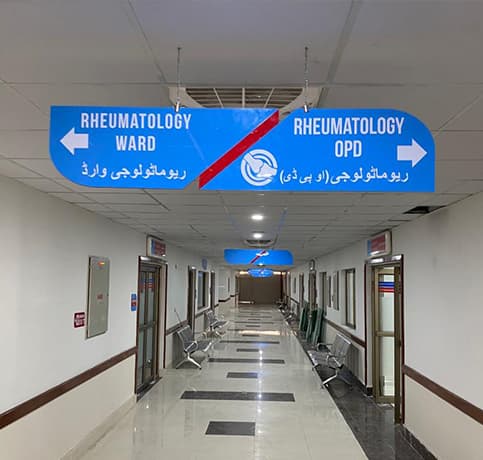 7 Days Emergency Services
The department has a dedicated 20 bedded Rheumatology in-patient facility; one of its kind in Pakistan.7 days emergency services & 6 days out-patients facility.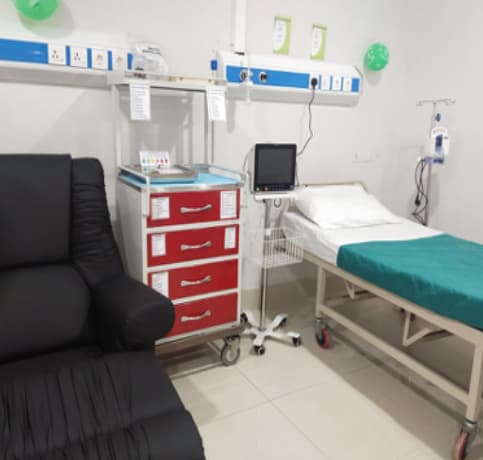 Biologics Infusion Centre
A well-equipped Biologics Infusion Centre for underprivileged patients established with the support of ACF.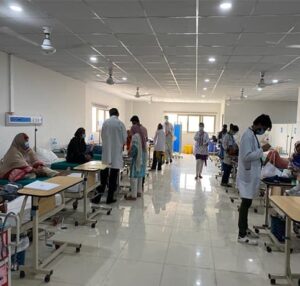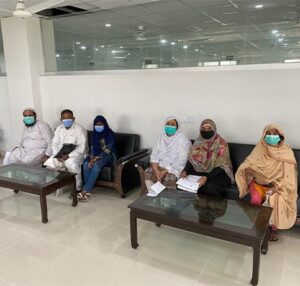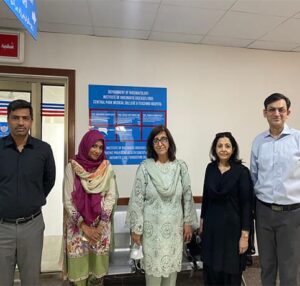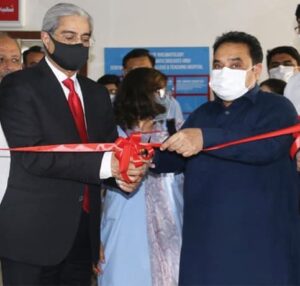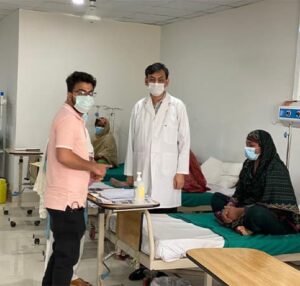 ACF & BEHBUD COLLABORATIVE RHEUMATOLOGY CLINIC
Free Rheumatology clinics were started in collaboration with BEHBUD Association, Lahore in 2006.
ACF funded trainees provide free consultation once a week at this clinic. It is ensured that one of the senior consultant attends their monthly health project meeting.
BEHBUD provides clinic space, ancillary support staff, diagnostic facilities and physiotherapy to rheumatology patients at subsidized rates.
ACF incurs the cost for medications for rheumatology patients seen at the BEHBUD Rheumatology Clinic.
In the last financial year 2021-22, ACF sponsored free medicines at the BEHBUD Rheumatology clinics worth Rs 1.1 Million. And so far PKR 18 Million has been spent on medications and diagnostics support for patients seen at BEHBUD.
ACF COLLABORATION WITH NATIONAL HOSPITAL & MEDICAL CENTRE
Arthritis Care Foundation has collaborated with National Hospital & Medical Centre in strengthening of fellowship program and facilitation of in-patients treatment.
In 2019, ACF faculty through its efforts got the Department of Rheumatology at National Hospital & Medical Centre, Lahore accredited for post graduate trainee program by College of Physician & Surgeons Pakistan (CPSP).
Since 2019, four rheumatologists, fully funded by ACF, have completed their fellowship training from the Department of Rheumatology, National Hospital & Medical Centre, Lahore; including a Rheumatologist from Balochistan. He is second of only two rheumatologists providing services in Balochistan. The first rheumatology service set up in Quetta is also by an ACF scholarship recipient. Currently five trainee fellows are being fully or partially funded by ACF being trained at the department.
National Hospital facilitates the in-patients treatment of ACF referred white collar patients through negotiated subsidized rates.
Since 2019, PKR 3.7 Million has been spent by ACF on in-patient treatment facilitation at National Hospital.
ACF is also funding remuneration of a Senior Registrar, who is providing patient care at the Department and also actively involves in teaching & training.
ACF COLLABORATION WITH PSIM FOUNDATION (AAP KA CLINIC)
Recently, ACF has collaborated with PSIM Foundation; an initiative of Pakistan Society of Internal Medicine (PSIM), to establish a Rheumatology clinic at 'AAP KA CLINIC' project of PSIM Foundation.
ACF funded qualified rheumatologist is providing clinical services at 'AAP KA CLINIC' once a week.
While the PSIM Foundation is providing clinic space, ancillary support and medications to deserving patients seen at the place.