Every patient with arthritis should have access to standard of care to prevent disability & premature death.
Our Story
The founders of ACF started community services in Pakistan in 1998, with the establishment of Rheumatology Clinics at Akhtar Mubarik Referral Centre, Lahore, in collaboration with AFJOG and Fatima Memorial Hospital. These services were expanded to collaborate with the Health project of Behbud Association, Lahore, in 2005. These facilities provided free consultations, subsidized/free diagnostics, medications, physiotherapy and/or rehabilitation to indigent or less privileged arthritis patients. Arthritis Care Foundation was formally registered in 2010 as a step towards expanding and maximizing these services to deserving patients of rheumatic diseases requiring financial assistance.
Our Mission
To establish, encourage, assist and support, Medical, Social Welfare and Educational activities, pertaining to deserving or under privileged patients, both adult and children with arthritis and other related rheumatic diseases, regardless of their gender, religion, caste, or colour, and without prejudice to the generality of the aforesaid.
A team of highly experienced doctors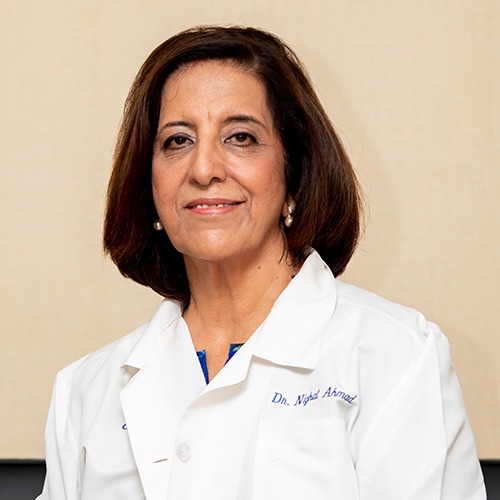 Prof. Nighat Mir Ahmad, MD
Founder Trustee & Chairperson •MBBS, FACP, MACR •Diplomate American Board of Rheumatology •Diplomate of American Board of Internal Medicine •Consultant Rheumatologist & Physician •Chair, Department of Rheumatology •National Hospital & Medical Center, Lahore •Faculty University of Health Sciences •Adjunct Faculty, Fatima Jinnah Medical University, Lahore
Prof. Sumaira Farman Raja
Founder Trustee & Co-Chairperson •MBBS, FRCP, FACP, FACR, •SCE Rheumatology (UK), CCD •Graduate Certificate Paediatric Rheumatology (Australia) •Consultant Rheumatologist & Physician •Head Department of Rheumatology •National Hospital & Medical Centre, Lahore •Adjunct Faculty, Fatima Jinnah Medical University, Lahore
Prof. Muhammad Ahmed Saeed
Founder Board Member, Co-Chairperson •MBBS, FACP, FACR •FCPS Rheumatology •FCPS Internal Medicine •Professor and Head Department of Rheumatology, •Central Park Medical College, Lahore •Consultant Rheumatologist, National Hospital and Medical Center, DHA •Adjunct Faculty, Fatima Jinnah Medical University, Lahore
Dr. Saira Elaine Anwer Khan
General Secretary & Director ACF Clinical Services•MBBS, MRCP, FRCP, CESR Rheumatology •Consultant Rheumatologist & Physician, •Assistant Professor Rheumatology, •Shalamar Hospital, Lahore •Adjunct Faculty University Health Sciences, Lahore
Dr. Muhammad Rafaqat Hameed
Associate Director Clinical Services MBBS, FCPS (Rheumatology) FCPS (Medicine), SCE Rheumatology (UK) Consultant Rheumatologist & Physician Arthritis Care Centre Assistant Professor Rheumatology, Central Park Medical College, Lahore
Present- 2022
21 Trainees Sponsored
Sponsored 21 Trainee Rheumatologists. Covering 50% of practicing rheumatologists in Punjab
2021
Transforming Lives
Improved Quality of Life of around 100,000 Patients' Families
2010
ACF Established
Arthritis Care Foundation formally registered in 2010
2005
Behbud
Services expanded to collaborate with Behbud Association, Lahore
2001-2019
Fatima Memorial Hospital
Established Rheumatology Department, started rheumatology training and community services
1998
Community Servies
Community services by establishment of rheumatology clinics at Akhtar Mubarik Referral centre